September News
2nd of September 2010
The lack of updates does not mean I´ve been lazy.
It does mean that I´ve very been busy - which is good.
The Burning did their 3rd album here, and the outcome is gooooood.
I did so many pictures, that I will have to find the best and show ya´ll later.
Untill then a short video with some guest vocals for you.
More info and sound on the soon to be released album here:
www.myspace.com/theburningdk
Sky Architects was here for 10 days, recording live.
Interesting and good band - was pure pleasure.
I think the genre is called post rock...he he...
Hopefully I can put up a tune soon - together with some pictures.
My old friends in Blunt was here too to record and mix 2 new songs for some compilations.
Check pics here
While we wait for those comps to be released, check out the video for another song I did with them.
Simply called Iron Maiden! Check it!
OMEN was here very shortly to record 3 songs.
Brutal session
Did a few additional single mixes and masterings in between it all...
Next in line:
Vocal recordings with Spectral Mortuary for the 2nd album
Full production and mix of Electric Hellride EP.
Full production and mix with my buddies in Last Minute Dance Club.
I will be back - soon
Jacob
Hey there!
23rd of July 2010
Albums I did is being released very soon.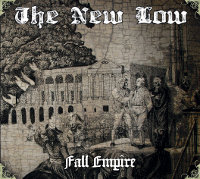 THE NEW LOW´s debut album is out the 16th of August through MightyMusic/Target I produced the album back in March 2009 at the Smart´n´Hard. But I remixed it here in the Dead Rat some months ago.
Check the song in the player - wait till the slow end part is coming....sludgy and suicidal as fuck...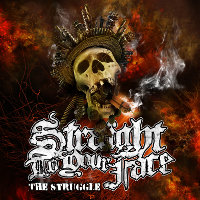 2nd album from STRAIGHT TO YOUR FACE is out in August as well.
The STYF boys now works with Demons Run Amok,
who will put the album out through Soulfood distro.
Listen to the title track in the player and feel the struggle...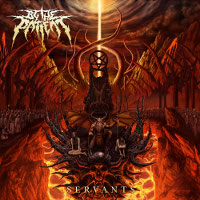 BY THE PATIENT
The Danish Death Metal monster will release their debut soon as well.
I only produced the vocals and did the mastering on this one.
But it´s a Death Metal masterpiece in my book.
Check it here.
New equipment!!!
New preamps - more in/outs and new guitar amps and so on
Check the gear section here
Busy, busy, busy....
11th of June 2010
First of all:
Check the 3 new songs in the player while you read this.
Alot of people was here the last couple of months - even the cops was here... and I did alot of mixing as well.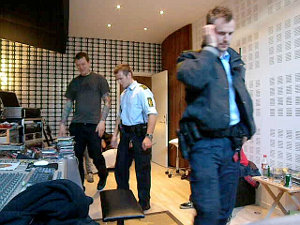 I finished 2 new Blood Label songs - they will come back for more soon. Check Gallery and more video
I wrapped up the new EP with Sickseed.
Check out the pictures in the Gallery, and more videos here
My old band, The Guv´nors, was here too.
They did 4 songs live in the studio. Check it!
See live rock and "oh eh" clips here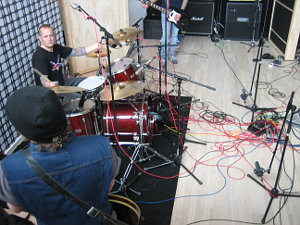 Right now I am mixing the new Obscurity album, and the new Horned Almighty album is soon to be done as well.
Later
J
A little update
1st of May 2010
Hell-o there!
A little update on what´s going on in the Dead Rat.
Denmarks new Death Metal hope, By The Patient, was just here to record vocals for their upcoming album.
They will be back soon to do the rest.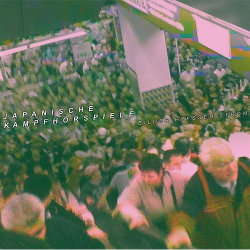 Japanische Kampfhörspiele on the German charts!
Weird and weirder. 6 months ago I mixed and mastered the bands latest album.
What they do is german languaged death/grind/punk.Got this message from them the other day:
"bilder fressen strom" entered the charts at position #92 in the first week after its release and we didn\'t even notice.
someone told me about that last week. even cargo records (our distribution company) forgot to tell us about that.....
Absolutely Jaka-style!!!
http://www.myspace.com/jaka
Double Space was here to record new songs live in the studio.
Check a video here, to see how it´s done, and check the pictures in the Gallery as well.
In between other stuff, I did a mix of a very young band called Lips. Young boys that likes The Doors - not bad.
Right now I am working on a EP with Sickseed, and some new tunes with Bloodlabel. More about that later.
Jacob and the Ratrats
Straight To Your Face finished the recordings
1st of April 2010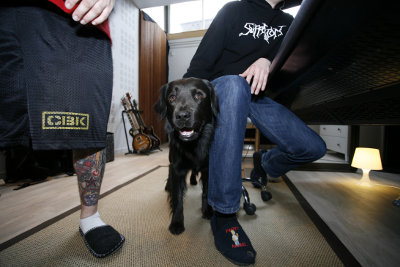 Straight To Your Face finished the recordings of their second album.
I am mixing it in this very moment. Sounding hard!
No triggers/samples or whatsoever. It´s titled "The Struggle" and will be out in May.
Check a few video clips here, and see pics shot by Peter Svendsen here.